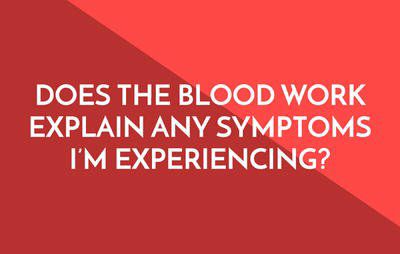 It's common when you have something wrong with you, to feel the instinct to go to your doctor to check your blood to find out what's taking place regarding your symptoms. Often you get your blood work done, there may be a few things out of range, but the majority of the time medical doctors cannot discover your problem by checking your blood. We must understand that the blood is the kitchen in the human body, and the kitchen will distribute what the body needs regarding nutrition for cellular function, and also dump the metabolitic waste in the lymphatic system, which is the septic tank of the human body that holds cellular waste for elimination. Even if problems are discovered via blood work, this is always going to be a lymphatic issue, and the blood work is just revealing to you how toxic you are regarding your lymphatic system. Imbalances and deficiencies that are shown in the blood, will be encouraged to be treated with medications and the wrong diet.
Unfortunately medical doctors have no clue about regenerative healing, and only are trained to mask symptoms, and treat with prescription drugs. In my opinion it's not wise to get hung up on blood work, and then get freaked out, because your medical doctor is trying to fear you into getting on some kind of medical treatment plan. If you drain the septic tank, the blood will also purify. If you alkalize and hydrate your body with the living foods, you can clean out any metabolic waste in the blood and also eliminate sewage waste from the lymphatic system which is what causes symptoms that you face regarding your health.
If your feeling frustrated dealing with all kinds of negative health symptoms, and have gotten your blood work done several times, with no discovery of your problem, then I would highly suggest you focus on detoxification, using nature as a remedy to heal, and understanding that health problems are found in the lymphatic system, and unfortunately medical doctors do not understand how the lymphatic system works quite well yet. They would rather just cut out lymph nodes, not understanding that lymph nodes are designed to push through cellular waste to the kidneys for elimination.
If you are detoxifying your body on the raw living foods and trying to encourage kidney filtration to remove lymphatic waste buildup which are acids burning cellular tissues, getting blood work done can be a huge distraction, because your removing and circulating toxins through your bloodstream, and at this time getting your blood work done could show imbalances, because of the process of elimination sometimes issues get worse before they get better. If you want to check your blood work in my opinion it's best to check after a good enough time detoxifying, and allowing the body to come back into balance and stability.
Blood work is a fear tactic to prescribe medications in my opinion as well. It's not difficult to clean out the blood, regenerate the body, if you simply just get back to nature and eat foods a your biologically designed to eat. There is no better food source to consume other than living fruits and vegetables and herbs that are known to purify the blood, clean out the lymphatic system, and encourage kidney filtration, and restore the body systemically, rather than treating and masking specific symptoms, and never getting to the root cause, because getting to the root cause of a problem takes detoxification, not adding on specific nutrition.
If you clean out your body with alkaline foods, in their living state consume, after a while you will experience a remarkable health benefits, and your blood work will show this to be a fact. Just understand if you choose to constantly try to find your problem through your blood, you will most likely blow like a feather in the wind, getting nowhere. The best way to check your health in my opinion, is to pee in a jar to see if your kidneys are filtering, if your urine is clear and there is no cloudy sediment forming after a couple hours, this means that your body is not eliminating wastes from the lymphatic system. You want to get your kidneys to filter so that you could remove the problem permanently. It's interstitial lymphatic constipation which is a buildup of stagnant acids in the body. Remove grains, beans, starch, eggs, dairy, and meat, and you can regenerate your kidneys and adrenal glands, hydrating alkalize your body interstitially, and regenerate the kidneys which are the vital eliminative organ for detoxification. Once you get your kidneys to filter, and you see this by checking your urine by peeing in a jar, and seeing yellow and cloudy urine, you will know that your on the right track, and eventually your symptoms will start to disappear, because the sediment and clouds you see in the jar are acids that have been removed from the body.
It is acids that cause all your health symptoms. The medical industry calls it inflammation. The kidneys have been beat up from high protein diets, and shut down their vital role for eliminating cellular waste. It's vital to remove protein if you want to regenerate them. Getting blood work done, and then prescribed specific vitamins or chemical medications will only add on more cellular waste in the body, and make it harder for the kidneys to eliminate these acids that are burning you. If we could only keep things simple and focus on a diet that promotes detoxification, get our kidneys to filter, then we will never have to waste our time with blood work, trying to chase a deficiency or imbalance that simply just caused from acidosis. you must remove acid forming foods, acid-forming thoughts, and acid-forming lifestyle in order to remove acids from the body. When you clean out the lymphatic system, then go get your bloodwork and you will see remarkable stats regarding optimal health.
The best way to get your kidneys to filter so that you could remove the causative factors, is to get on a diet that's based around fruits, berries, melons, and herbal botanicals formulated and designed for the endocrine glands, kidneys, lymphatic system, and GI tract. I highly suggest you transition to 100% raw food diet 80% fruit based in order to really accelerate kidney filtration which is vital for removing metabolitic waste.
The End
Get back to nature my friends, get back to a diet that your biological design to eat, tap into your intuitive Consciousness, let your instincts guide you, live in the present moment, and I promise you my friends you will thrive!
Written by Jonathon RA Stearns AKA the Mangotarian
If you are interested in my iridology services or phone consultations regarding regenerative detoxification please send me a private message or shoot me an email I can discuss with you with what Im offering to assist you! ? https://www.facebook.com/mangotarian/services/
Detoxification and Spirituality with the mangotarian:
https://www.facebook.com/groups/1431247356944291/
Detoxification A New Paradigm for Health:
https://www.facebook.com/groups/1463048747322581/
The Mangotarian @ YouTube: