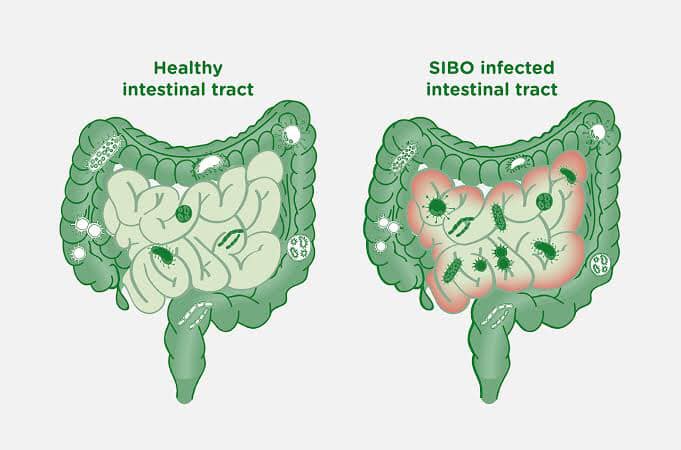 Yo-yo eating on raw and cooked foods really ware out and damages the pancreas. Over time the pancreas will fail to break down the carbon and when food particles remain in the small intestines for too long undigested this creates bacteria. Excess bacteria in the small bowel that is often called "sibo" creates waste in the colon bacterial fecal matter and this causes chronic gas and creates intestinal pain and discomfort.
Also when the liver and gallbladder fails to produce bile to break down all the fats you put in the body from improper eating such as consuming rancid cooked oils you can create massive loads of fungus from the fermentation overload.
If you don't know what yo-yo eating in this community is I will be specific. It's eating raw foods for a season and then binging on cooked foods and repeating the cycle. Prolonged fasting can be a serious issue as well with this yo-yo cycle and be even worse on the pancreas and microbiome.
The mucosa gets very sensitive when you eat clean for so long and abstain from stimulants in the form of food and drinks. When the mucosa gets sensitive and you binge on unhealthy cooked foods after prolonged fasting and mucusless diet for so long the body will fill up with excessive amounts of mucus and Uric acid loads from the fungus and you will find yourself dealing with painful gas. (Trapped gas is the worst)
Transition wisely and be careful with too much fasting if you have a history of addiction patterns.
If your digestion has been worse coming from a prolonged season of simple raw food eating back to cooked and heavy sugar foods like starchy foods you will eventually run into problems. You can get "clean" and then you can create serious issues with your health if you lose control. This is a huge reason there are gut problems in the "vegan community" most people in this community that eat clean (mucusless) run into problems because they fail to find balance and discipline long term and they pay for it.
I'm one of them…… too much fasting and failing to have discipline with how I break the fast. Don't make the mistake I made soul family and go from a long-term mono fruit eater to fasting, clean eating, and then binge eating on starchy foods. If you don't develop bowel issues you will build up mucus and acids in other areas of the body like in the head and lungs.
Again I will be approaching another juice fast to clean the colon and this time I will have no choice but to eat very simply and clean when I break the fast because I've put enough stress and damage on my pancreas because of the arrogant mindset of "I know how to fix myself" so I can play and clean as I move through this chaotic world. Was not a good idea and don't follow in my footsteps.
I was not smart with how I handled my body this year and I want to warn all you beautiful souls to be wise, find your balance, and don't make the same mistake I made.
The End
Get back to nature my friends, get back to a diet that your biological design to eat, tap into your intuitive Consciousness, let your instincts guide you, live in the present moment, and I promise you my friends you will thrive!
Written by Jonathon RA Stearns AKA the Mangotarian
If you are interested in my iridology services or phone consultations regarding regenerative detoxification please send me a private message or shoot me an email I can discuss with you with what Im offering to assist you! ? https://www.facebook.com/mangotarian/services/
Detoxification and Spirituality with the mangotarian:
https://www.facebook.com/groups/1431247356944291/
Detoxification A New Paradigm for Health:
https://www.facebook.com/groups/1463048747322581/
The Mangotarian @ YouTube: