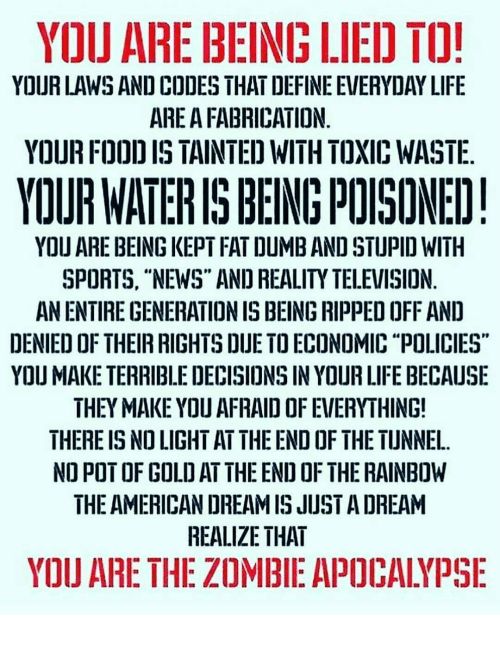 It's amazing that just by changing your diet this could drastically change your lifestyle because of the way the world is set up today. Humans try to pretend like life doesn't revolve around food, but really food is the most treasured commodity, and from sunup to sundown it is the main focus every single day. Society has designed a model of eating three square meals a day, and planning and preparing is time consuming, and it's all built around food, at some level even when your eating healthy and simple a lot of time and effort is put into consuming food. Advertisements, billboards, television series, most of the content is based around consumption.
Food is important, because species are designed to eat, the question is how much importance should we put on food, and how much food do we really need in order to thrive on this planet we live on? In my opinion humans over-consume. Humans eat entirely way too much, and this is a hindrance to mankind, and this is why we are dealing with chronic and degenerative acid conditions in the body, and humans are suffering and decaying as a species because of this.
In order for anybody to truly benefit from the foods they eat today, they must partake and aggressive detoxification. We have completely damaged the human organism because of over-consuming food, and eating foods that are extremely toxic, poisoned with chemical residues, created in manufactured in factories, extremely too high in protein and fat, and complex carbohydrates, predominantly on the acid side of chemistry, create heavy mucus in the body to protect it from being fried by the acids that it's producing. We are damaging our pancreas, and gallbladder so food cannot be assimilated in the body, which then returns causes putrification, fermentation, and builds up parasitic sewage like environments which shut down the eliminative organs, and create oversaturation in the lymphatic system, and we bathe in this sewage without eliminating it, because we don't allow the body to properly detoxify the metabolic waste that the body has accumulated.
Society has allowed big corporations, that are interested in creating yield of low quality foods, that have been manipulated in their DNA, changed through chemical modalities, such as genetically modified foods, and using toxic chemical residue pesticides, to keep nature away from it. The more we destroy the soil, the more we produce a food source that creates a level of toxicity, that is not fit for consumption. the food has been so badly compromised and damaged, but even eating simple mono plant based meals cooked or raw could create acid residues in the body because the food has been changed, in its molecular structure down to the core of its source (DNA) there's a certain level of health you can achieve with the foods, depending on its quality, and where it has been grown, but in all reality we live in a world today to where you can't truly regenerate and fix your body on a systemic level through eating, and it doesn't matter how organic the food source is. The level of damage that humans have caused their bodies, the food could only take them so far, we really have to stop our obsession with eating, and learn about fasting.
Do we really think that this whole concept of calories such as women getting their 2000 calories, and men getting their 3000 calories a day is really healthy? Is this modality really going to provide the healing the rest of body needs to regenerate? This is far too much food, and the level of damage that humans have caused to their body, can never heal on that amount of food a day period! Now the fruitarian community may disagree with this concept, because they are too fixated about the food, thinking that as long as you just eat food your designed to eat it doesn't matter the quantity? Well I would say that it's better to eat high-quality fruits and vegetables then it would be to eat high-quality starch and animal foods No doubt, but the truth is when you clean out the toxicity in the body and you get rid of the The parasites, your appetite for 3000 calories a fruit will very quickly go down to probably half that amount if even more. When you go on a fruit and vegetable diet, in its raw and living state, you create the environment for the body to heal at some level, but the body will soon plateau, when your constantly eating from sunup to sundown every single day, regardless of how quality the source of food is, and what the food is.
There is no doubt that fruits are designed for humans, and there are the best source of electromagnetic living foods that create the least amount of strain on the body to heal, they digest the quickest, and they leave behind the least amount of residues regardless of its quality, but in all reality you can't gorge on any food, and expect the body to remove obstructions. You never want to over feed a sick person, you want to remove as much stress on the body as possible, so that nature could have its way with the clearing out obstructions.
When it comes to the foods there is no doubt that you could heal and reverse many health conditions when your just eating fruits, However I truly believe it's the fasting and the herbs that provide the most healing! Many people use the herbs today but they don't change their diet, and the herbs are so powerful that they do work out obstructions at some level, but if you really want to get the most out of the herbs, then go on a very simple mono fruit diet, don't overeat, eat when your hungry stop and you're satisfied, and eventually you will not become obsessed with eating, and the quantity of your food will lessen overtime. The body will soon plateau when your eating too much, and this is why I believe that the intermittent dry fasting, or fasting on herbs or herbal teas, can be an effective tool to allow the body to focus on removing the terrain, rather than putting its energy on processing food material, which it puts a lot of hours and energy into every single day.
Most people have at least 6-8 meals of backup fecal matter in their colon that they still need to work out of their body, and that's why going on solid food vacations is also a good and effective tool to clean house so that you can rebuild your body. It's very interesting that those that reverse very serious and chronic degenerative health conditions, do it on water and dry fasting, there is no chemistry coming in when your dry fasting, and very little chemistry when your water fasting, and deficiencies, chronic pain, cellular damage of tissue, and chronic and degenerative neurological conditions become reversed when the body obstains from consumption, which is proof that foods are not the healers, its nature and it's full body rest that does the regeneration.
However I do believe that Mother Nature has provided herbs with a specific Consciousness, to target and enhance damages in the body. I believe that it's not the matter of the herbs such as the fibers but it's the chemistry inside the herbs that helped to an enhance cellular activity, and their all so great at buffering acids and removing them from the body. Even hot herbal teas, are very powerful and effective, and this proves that the herbs are a gift to enhance healing, and have been proven to enhance damaged bodies for over thousands of years. We should be falling in love with the herbs more than we are falling in love with the food, because we have allowed society to use food as a tool to entice, and pervert the human species, which in all reality has become a drug not an actual food.
We are suffering due to the consequences of this food obsession. If the human species could only get back to nature, and be more interested in nourishment and health, then consuming, then we could enter a level of consciousness, and find true peace that doesn't come from the food, but rather comes from being grounded in nature, in an environment that is not built out of rock, but rather built around nature, with thriving species, nutritive soils, and the tropical rains, that we need beating on our skin, as well as the sun absorbing into our skin, finding ways to replace our obsession with eating, with spiritual connection, with leaving our bodies, instead of becoming obsessed with living in them and feeding them all day long.
True nirvana is achieved when we leave our physical bodies, because humans are not physical bodies, so we should not be enslaved to them, and allow them to master us. Food should never master our bodies, and chronic and degenerative health conditions should never control us either. We could get our health back, if we lose our obsession with food, if we stop eating acid and mucus forming foods, and make our diet as simple as eating fruits and herbs, not overeating what are body actually needs, and letting the body rest for several hours a day which I believe 16 to 20 hours a day and more is optimal in order to truly recuperate, rebuild and repair from the obstructions that humans are dealing with today.
The more humans invest in the problem the more the fda, and medical world's will profit millions of dollars coming up with creative "disease conditions", to treat with chemical drugs that only oversaturate the body with more acidosis, and disease. Mds hava been very creative with finding ways to cover and mask symptoms, so that humans can become more addictive and slaves to their devices, when it comes to what they're trying to do to our food source, and getting us hooked on the chemicals that the foods are being poisoned with. Let's take back our health, that's take back our honor, and let's stop supporting these companies, that are producing a problem that will in return cause distinction to the human species if we continue to feed into it.
The End
Get back to nature my friends, get back to a diet that your biological design to eat, tap into your intuitive Consciousness, let your instincts guide you, live in the present moment, and I promise you my friends you will thrive!
Written by Jonathon RA Stearns AKA the Mangotarian
If you are interested in my iridology services or phone consultations regarding regenerative detoxification please send me a private message or shoot me an email I can discuss with you with what Im offering to assist you! ? https://www.facebook.com/mangotarian/services/
Detoxification and Spirituality with the mangotarian:
https://www.facebook.com/groups/1431247356944291/
Detoxification A New Paradigm for Health:
https://www.facebook.com/groups/1463048747322581/
The Mangotarian @ YouTube: