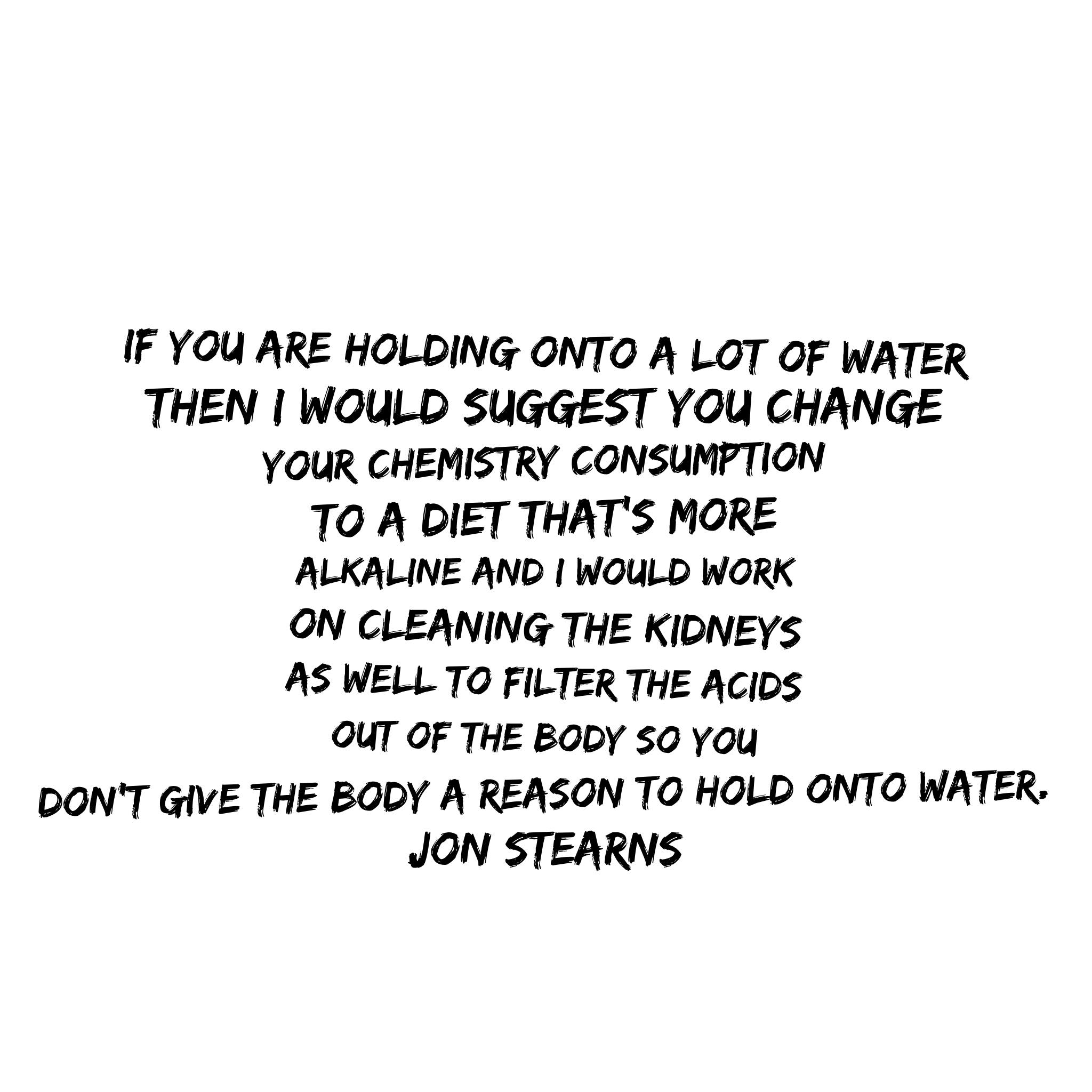 When you are holding onto excess water weight this is a clear sign your body is acidic and your kidneys are not filtering well.
Water is the universal solvent to buffer acids and metabolic waste in the body. So if your body is acidic the body will use water to buffer so acids don't chew you up. The body is always trying to maintain an alkaline dominate ph balance so when the body is more acidic than alkaline the body will use water, calcium from bones and connective tissue, and cholesterol from the lymph system to buffer and neutralize excess acids that enter the body.
Understand that there are only 2 sides of chemistry acids and alkaline and the human body is a machine that runs on chemistry and chemistry is coming into the body most of the time whether that's by mouth, by breathing or applied on the skin. If the chemistry is acid dominate that enters the body then you will run into bodily systemic problems and water retention being one of them.
If you are holding onto a lot of water then I would suggest you change your chemistry consumption to a diet that's more alkaline and I would work on cleaning the kidneys as well to filter the acids out of the body so you don't give the body a reason to hold onto water.
If it was me I would adopt a fruit-based raw food diet dealing with any bodily dysfunctional issue and I would get herbal formulas that address the kidneys and adrenals so the body can drain the acids from the lymphatic system as well as the excess fluids the body is holding onto.
If you don't get your kidneys filtering and skin sweating you can hold onto water and even more when you switch from a diet of low water foods to high water foods. When you hold onto more water on a raw food diet you want to incorporate dry fasting and get kidney diuretic herbs to pull the water out and to encourage filtration so you can pull out the acids that are saturating the lymphatic system which will break down organs and glands and when you don't eliminate waste then acids don't come out and the body can't Reacclimate and regenerate itself.
For water retention while hydrating and alkalizing the body on a fruit-based raw vegan diet you want to dry fast for at least 14 hours every day to pull the water out and you want to try to hydrate effectively but also on the least amount of fluids from juicy fruit if possible but not too little and go by hydration not the amount and you want to discontinue drinking water as well because drinking water on top of a water-rich diet is too much water on the kidneys and you will overburden them and this will not encourage kidney filtration effectively.
When you fix the adrenal glands and or hormones come onto balance you should get rid of excess water retention in the body as well and also the adrenals control the kidneys and help them filter through Neurotransmitters so when the adrenals are down this can make the kidneys weak as well.
When you clean your sewer system (lymphatic system) you will remove the acids that dehydrate and burn up electrolytes in the body and you will become lean strong and can find your youth again but it takes time, effort and consistency cleaning and strengthening through the process of regenerative detoxification and the human body has been through a war zone regarding backing up the lymphatic system and it will take time to take out all the trash.
The End
Get back to nature my friends, get back to a diet that your biological design to eat, tap into your intuitive Consciousness, let your instincts guide you, live in the present moment, and I promise you my friends you will thrive!
Written by Jonathon RA Stearns AKA the Mangotarian
If you are interested in my iridology services or phone consultations regarding regenerative detoxification please send me a private message or shoot me an email I can discuss with you with what Im offering to assist you! ? https://www.facebook.com/mangotarian/services/
Detoxification and Spirituality with the mangotarian:
https://www.facebook.com/groups/1431247356944291/
Detoxification A New Paradigm for Health:
https://www.facebook.com/groups/1463048747322581/
The Mangotarian @ YouTube: